Über den Kurs
Europe now has 500 million consumers and is the world's largest single market. It is also one of the world's most culturally diverse markets. This can make it a very worthwhile environment to work in but difficult to navigate. Miscommunication and lack of leadership skills are cited among of the main reasons why European projects fail. As a leader, you not only need to be aware of cultural differences, you also need to effectively set a management tone and style that is open and adaptable to a range of cultural perspectives. Join this course and gain the skills you need to become a great leader in an international organisation.
What will I learn in this course?
In this course, you will learn about the impact leadership styles have on various national cultures. Sander Schroevers, a Cultural Intelligence expert from the Amsterdam University of Applied Sciences, will teach you successful country-specific strategies and so that you will gain a critical understanding of the available management techniques. Enhance your leadership skills across Europe and learn to capitalise on effective leadership scenarios.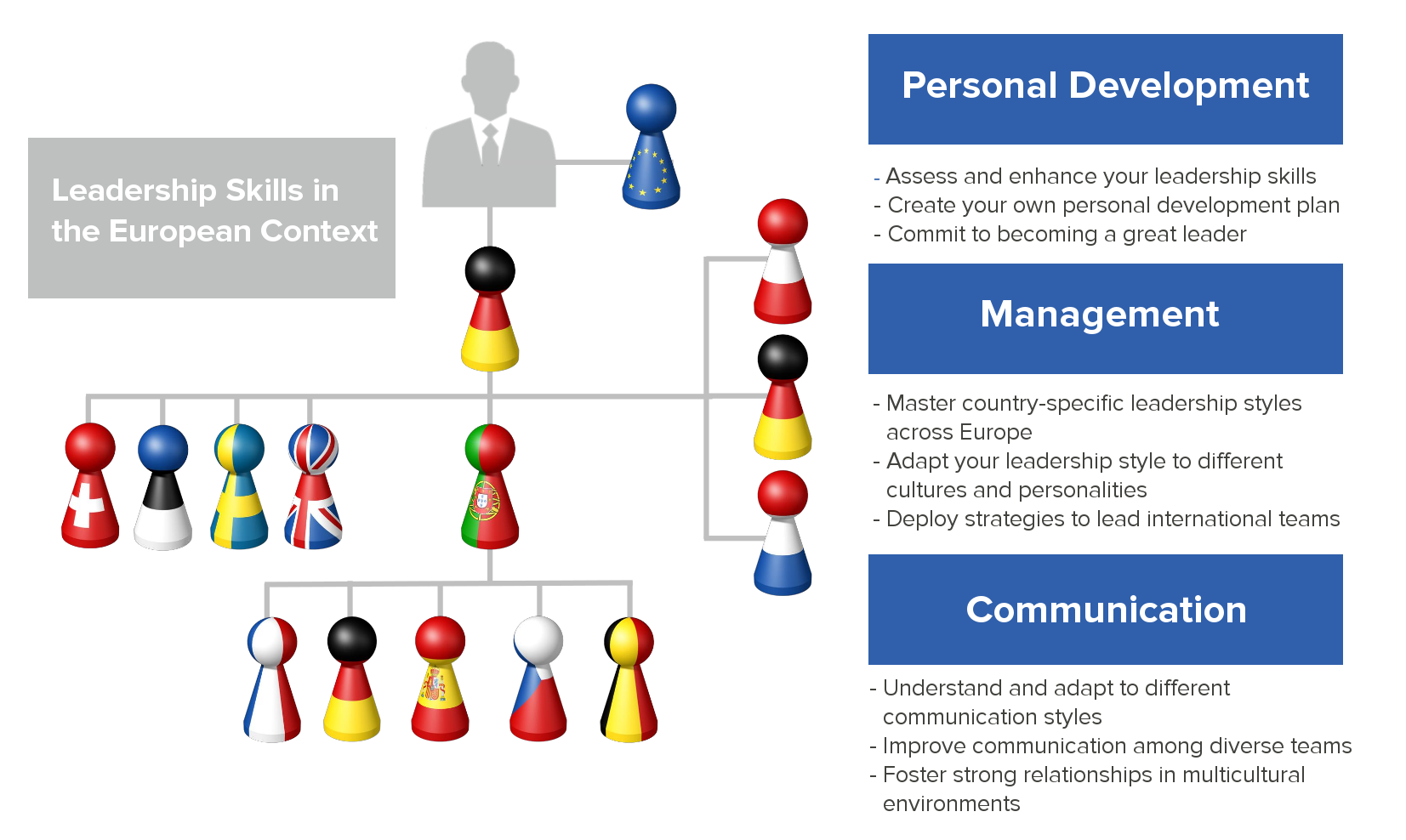 ---
Who should take this course?
This course is suited for a variety of different experience levels. We invite anyone who is eager to build and consolidate his or her leadership skills in a European context to join us. More specific groups include:
• Executives concerned with increasing their leadership effectiveness across Europe

• EU officials and people working at European institutions

• HR managers in European organisations

• Managers confronted with EU projects

• Professionals working in international organisations

• Graduates aiming for careers in the international sphere

---
What is included in this course?
By enrolling in this course, you will gain access to:

• All Course Material

• Challenging & Fun Assignments

• Interactive Global Community

• A Series of Practical E-Books by Sander Schroevers

• Flexible Time Management



Upon completion of this course, you will receive:

• A Statement of Participation
---
Course Overview
Chapter 1: Introducing European leadership concepts
Chapter 2: Managing teams across Europe
Receive an introduction to leadership skills in the European context
Develop awareness of the reality of leadership and management in Europe's internal market
Discover what leadership is to you and how you can become a better leader
Understand the different factors in managing teams in the EU context
Foster positive leader/subordinate relations
Understand various expectations regarding: decision-making, empowerment, information-sharing and feedback methods
Chapter 3: Categorising Europe
Chapter 4: Leaders and Communication
Understand country-specific expected leadership empathy and working styles
Apply these skills and knowledge to selected countries such as: Germany, France, United Kingdom, Italy, Spain
Compare and explore country-specific differences
Understand and master different communication styles
Focus on speaking and listening skills, non-verbal and written language
Produce a critical assessment of your own communication style
Chapter 5: Self-knowledge and behavioural forecasting
Develop an understanding of personal leadership preferences
Deploy strategies and scenarios based on country-specific expectations
Produce a personal development road-map
---
Want to discover the online learning experience?