Your Cover Story - The Future of Corporate Digital Learning
How do you imagine the future to look like?
With the gamestorming method "Cover Story" - explained here by Dave Gray - we would like you to envision and imagine your ideal future of corporate digital learning.
You can create your own magazine cover page, use the gamestorming image as inspiration, or come up with something completely different and new. Just show us your wildest dreams! Usually, this game is played collaboratively, but we want to put the focus on the discussions and comments after. So make sure to share your journal entry and have a look at other journals as well.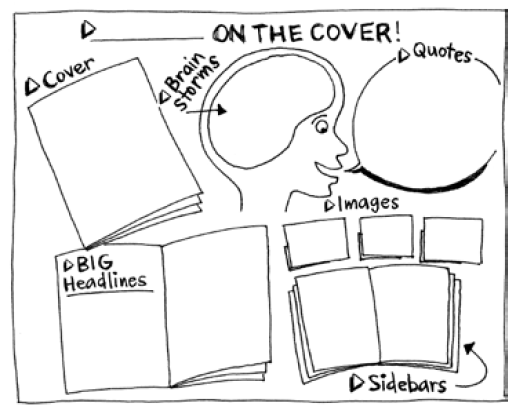 http://gamestorming.com/
This game is based on The Grove Consultants International's Leaders Guide to Accompany the Cover Story Vision Graphic Guide® ©1996–2010 The Grove.
Ps: There is also an online version of Cover Story, you can play here.
Need some inspiration on how the future could look like?
Watch this video by The CGBros!

Trends of future digital leaning
Brainstorming: Need to know or learn
The learner plus the entire company staff must try to engage in finding the need that leads one to study.
There should be willingness to learn and improving professionally.
The learner must cultivate the interest to learn and acquire new knowledge and skills.
Cover: Driving question or challenge
- Learners must have a purpose for learning.
-Learners should have driving questions or challenges they need to solve or give answers.
-Institutions must work closely with the learner to identify the need for learning.
-A good driving question captures the heart of the project in clear, compelling language, which gives students a sense of purpose and challenge.
Quotes: Inquires and innovations
- Learner centered approach creates room for motivational acquisition of knowledge.
-Learn with the world but learning about it
-Defined objectives and reasons for learning help in career/professional development
-PBL is a real captures learners' interest and provoke serious thinking as the learners acquire and apply new knowledge in a problem-solving context.
- Strong school support, access to well-developed projects, and a collaborative culture for teachers and learners are important to the success of project based learning.
-Using real-life problems to motivate learners, challenging them to think deeply about meaningful content, and enabling them to work collaboratively are practices that yield benefits for all learners.
Sidebars: 21st Century skills
Learners need to have appropriate technological and soft skills to easy learning process
Proper environment for learning at work for professional development
Transform/change from traditional teaching to engaging and innovative facilitation, coaching and mentorship.
Headlines: Learners' voice and Choice
-Good performance measured on grades and positions in class; 2 out 146 students.
-Scholarships awarded to those with good grades
-Best jobs given/reserved for high grade learners while production is very minimal
-Using real-life problems to motivates learners, challenging them to think deeply about meaningful content.
-Many projects use technology— to provide simulations, opportunities for Internet research, or collaboration with others in a remote location hence making additional demands on the teacher.
Images: Feedback and revision
-Measure of the benefit from the learning process from both the learner and the facilitators
-Demonstration of improvement and change in performance at workplace
-Reporting /reflection on the learning process
NB. This link gives us detailed desired way how digital learning should be approached.
http://www.ascd.org/publications/educational_leadership/sept10/vol68/num01/Seven_Essentials_for_Projec
http://www.teachthought.com/learning/project-based-learning/7-essential-ingredients-project-based-learning/